I recently attended an Old Vine Project (OVP) tasting lead by André Morgenthal and Jaco Engelbrecht. The aim of these tastings is to create awareness around the preservation of old vineyards by promoting sustainable viticulture – this is clearly an industry initiative.
The wines we tasted were superb and the discussion around this topic is fascinating. André tells us more about what the Old Vine Project is all about.
How did the idea of preserving the old vines come about; who are the founding members, and what date was its inception?
With the prospect that the wine industry was (and is) losing old vineyards at a rapid rate, well respected and well known Rosa Kruger and a select few viticulturists went scouting in 2002. In 2005 the word spread and farmers started volunteering information. By 2006 Eben Sadie harvested the oldest Chenin Blanc block and named the wine after the owner of the vineyard, Mrs Kirsten and so things gained momentum.
In 2010 The Old Vine Project gained more interest from winemakers like Chris Alheit, Duncan Savage and The Mullineuxs. Rosa launched the first ever website to catalogue old vineyards in 2013 and in 2016 the project was formally launched, backed financially with seed funding from Mr. Johann Rupert of the Rupert Foundation who believes that the heritage of South African vineyards must be saved and preserved.
What do you hope to accomplish by starting this awareness and how does a producer get involved?
Creating awareness has been a multi-pronged approach. We spent the last year consulting with the greater industry along the value chain, from primary grape growers, winemakers/brand owners, wineries, co-operatives (where 80% of the old blocks are retained within their systems), industry organizations to media interviews. Through old vine wine tastings, e.g. at this year's US Woordfees, the Wines of South Africa Old Vine Tasting at South Africa House in London, at retail outlets like Caroline's and De Warenmarkt and in private homes, we generated coverage and the word got out.
The awareness campaign has been doing well due to generous support from old vine producers in terms of releasing limited stock for tastings.
A wine producer can simply join the Old Vine Project (OVP) here in order to benefit from the exposure opportunities, source old blocks, develop new brands or to enhance existing brand lines.
Our biggest challenge, however, is the financial model to make the OVP sustainable long-term.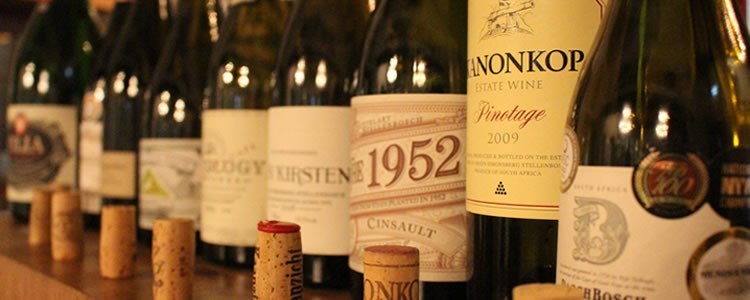 What age does a vine have to be in order to be classified as an Old Vine?
35 years and older.
What are some of the ages of the vineyards currently listed under Old Vine?
Ranging from 35 to over 100 years the oldest vines belong to the Uni Wines stable.
Is the taste profile of an Old Vine really that different to that of a young vine? If so, please give an example of how?
Here in lies the rub, as the druid said. We are not saying wines made from old vines are better than younger wines. Old vines do not by definition produce wines of exceptional quality. But what we do know is when an old block delivers fruit of excellent quality, the wines are different in a textural way, with depth, complexity and reflecting where the grapes were grown, rather than a fruit driven wine.
There is a perceived natural freshness which is due to the vine being in balance and producing grapes with a stable and healthy analysis. Imagine you are in your 20's, still partying and trying to find direction. Arrive in your 30's and you seem to (in theory) find your passion and balance, settle down. This is what happens physiologically with a vine, exposed to perpetual, inescapable weather, wind, rain, heat waves, for more than 3 decades.
Prof. Deloire explained it so beautifully at the Anthonij Rupert Wines Old Vine Series launch a few years ago: "They can't run away for shelter. Their roots have kept them in an everlasting environment of uncontrolled challenges, affording them the discomfort of a lifetime, but the luxury of managing the fruit."
Can you give an example of a success story to come from the Old Vine project and what exciting things do you have lined up to create awareness around this project?
Our favourite story to date is that of Henk Laing in the Skurfberg, a rugged environment situated between Clanwilliam and Lamberts Bay. Henk and his wife told us they were struggling to make ends meet and they were busy pulling up their vines (mostly old, low yielding and not financially viable) to replace these with more profitable agricultural crops.  Then about 15 years ago Rosa Kruger, through viticulturalists like Johan Viljoen, started sourcing grapes from them and the viticultural part of their farming became profitable.
With the likes of Anthonij Rupert Wines, Botanica, Sadie Family Wines, Fram and Santa Cecelia now sourcing from his old vine blocks, he could afford to put his daughter through University.
On that note, we ask ourselves as a collective, how emotionally driven is this project? I think of the years that Rosa Kruger and her team have spent researching not only the vines but soil, climate, people – those that till the land and love the soil that live for farming puts what we are aiming for, into perspective. We see this as a South African Wine Industry initiative, where all benefit, even those that are planting vines today because we hope and we aim for those vines to age and mature and become part of the Old Vine Project.
For the original article, click here