The Old Vine Project is a non-profit company that certifies the plant dates of vineyards that are 35 years and older. Our goals are:
To build the Old Vine category in South Africa and abroad with media, producers, trade, and consumers alike by demonstrating the benefits of preserving vineyards that are 35 years and older
To encourage the use of and recognition of the Certified Heritage Vineyards seal on old vine wines
To educate producers, winemakers, farmworkers, and viticulturists of the inherent potential of old vines to produce brilliant wines
To demonstrate a sustainable pricing model for farmers using old vines as a basis for growth
To educate producers, winemakers, farmworkers, and viticulturists of the inherent potential of old vines to produce brilliant wines
To demonstrate a sustainable pricing model for farmers using old vines as a basis for growth
To encourage producers and viticulturists to plant clean, virus-free vines to help us make better wines in the future.
To encourage producers to farm as close to nature as possible.
To deliver educational programmes that provide practical knowledge such as old vine pruning course with our partner FELCO Africa, and build category knowledge with the support of Imvini Wethu via the Old Vine Academy.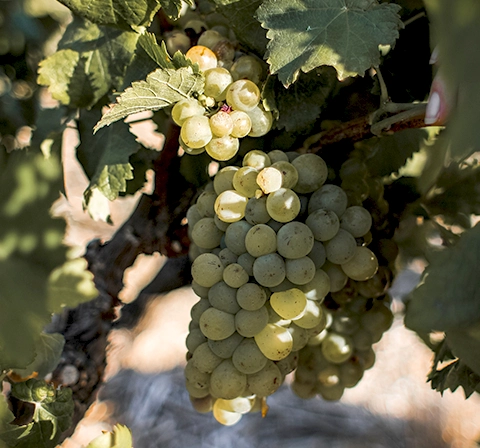 To contribute to scientific research via our own sponsored research or that of our members.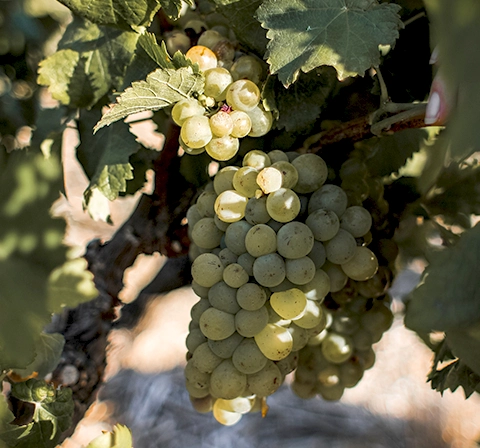 To deliver educational programmes that provide practical knowledge such as old vine pruning course with our partner FELCO Africa, and build category knowledge with the support of Imvini Wethu via the Old Vine Academy.
To contribute to scientific research via our own sponsored research or that of our members.
SELLING PRICES THAT WILL ALLOW GRAPE PRICES TO RISE AND BECOME SUFFICIENTLY ATTRACTIVE TO FARMERS THAT THEY WILL NOT BE TEMPTED TO PULL OUT THE OLDER, LESS PRODUCTIVE VINES THAT MAY WELL MAKE SOME OF THE FINEST WINE."
The journey to document South Africa's old vines was started in 2002 by vineyard manager, Rosa Kruger. The OVP was formalised in 2016 with seed funding from the Rupert Foundation. Today, with traction gained and awareness spreading, more wines are being launched to augment the OVP's footprint. Here are a few key points in the old vine journey.
2002 THE SEARCH BEGINS
Rosa Kruger, with a select few viticulturists, starts scouting for South African old vines.
2005 THE WORD HAS SPREAD
Producers hear about the curious viticulturist, Rosa Kruger, and start contacting her about old vines they have encountered.
2006 THE OLD VINEYARD SERIES
Eben Sadie releases his first wine under the Old Vineyard Series, 'Mevrou Kirsten'. The wine is made from the oldest Chenin Blanc vineyard in South Africa, situated in Stellenbosch, named after the owner's wife, Mrs Kirsten.
2010 GAINING MOMENTUM
More and more winemakers are turning to Rosa Kruger and her old vine passion. Chris Alheit, Duncan Savage and The Mullineux's join the quest for old vine wines.
2014 OLD VINES GO ONLINE
Rosa Kruger launches the first ever website, I am Old, to catalogue old vineyards.
2016 OLD VINE PROJECT
Rosa Kruger formally launches Old Vine Project with seed funding from the Rupert Foundation, with the mandate to save and preserve South African vineyards. André Morgenthal becomes Project Manager.
2018 CERTIFIED HERITAGE VINEYARDS
A world-first, the Certified Heritage Vineyards seal certifying that the wine is made from vineyards of 35 years and older, is launched. The planting date is reflected on the seal, providing traceability.
2018 OLD VINE PRUNING
Vineyard worker training is designed to ensure that these vineyards are pruned correctly and preserved for the future. The course continues annually with the support of FECLO Africa and Imvini Wethu. Nadia Hefer joins OVP as a project consultant.
2019 BUILDING A CATEGORY
Platter's Wine Guide includes the Certified Heritage Vineyards' category, restaurant wine lists, competitions, and local wine retailers create dedicated CHV sections. The OVP and its world-first Certified Heritage seal is featured in the latest edition of Hugh Johnson and Jancis Robinson's World Atlas of Wine.
2020 HERITAGE SELECTIONS
Following work done since 2008, Vititec in partnership with the OVP, starts to collect cuttings of South Africa's best old vine vineyards with the goal to develop clean plant material from these Old Vines. Cuttings are taken and material from 11 blocks are cleaned of all known viruses. These vines referred to as 'Heritage Selections', are presently available to be propagated.
2020 DEVELOPMENT IN THE VINEYARDS
After tasting Old Vine Chenin Blanc from South Africa, the InterLoire realises the unique attributes of these Old Vines. The InterLoire take plant material of what they view to be the best Chenin Blanc blocks and vines in South Africa and discover that South Africa has Chenin Blanc selections that are extinct in France. The goal is to safeguard this gene pool in their clonal garden in France.
2021 IMVINI WETHU
'Alone we can do so little; together we can do so much'. This is the slogan with which friends of South African wine in Germany launch a new premium wine, Imvini Wethu, in Germany and other European markets in February 2021. This cross-continental partnership led to the creation of an exceptional Cape blend made in association with the Cape Winemakers Guild's (CWG) Protégé Programme and the Old Vine Project.
2022 OLD VINE ACADEMY
Together with the assistance of the Imvini Wethu team, the OVP has developed an online learning platform, the Old Vine Academy. The academy is aimed at educating the wine industry, trade, consumers, and media on the value of Certified Heritage Vineyards and the wines that they produce.
Rosa Kruger: Founder and Chairperson
Rosa Kruger has been a consultant vineyard manager for different cellars who designs new vineyard sites and manages existing vineyards for quality wine for 20 years. She travels to the most interesting vineyards of the world annually, to keep herself up-to-date on what it takes to make great wines.
André Morgenthal: Manager
André studied philosophy, languages and drama at the University of Stellenbosch. At the end of his studies, he started a wine tourism business, providing specialised wine tours, wine training and consulting to trade. André has lectured at the Cape Wine Academy and wrote a wine column for a Sunday business newspaper. He has worked several vintages at Domaine Bertagna in Vougeot, Burgundy and made wine on a small Stellenbosch property, Clos du Ciel. In 2001, he joined Wines of South Africa (WOSA) as Communications Manager with a focus on media relations, and to represent the South African wine industry in the Great Wine Capitals Global Network. André joined Old Vine Project in 2016 as Project Manager.
Nadia Hefer: Consultant
Nadia studied BSc Viticulture and Oenology at Stellenbosch University, where after she explored wine tourism, marketing and branding disciplines. She completed her MBA at Audencia Business School in Nantes, France, where after she returned to South Africa. Nadia joined the Old Vine Project in 2018 as project consultant.

MESSAGE FROM ROSA
Old vines make wines that reflect the earth and the terroir they grow in. They reflect the scorching summers and the long icy cold rainy Cape winter days they have endured over decades. They exist because of the people who touched and tended them over many years. Wines from old vines reflect the vast and varied landscape of South Africa – from the red sandy soils at Skurfberg where the winds of the Benguela Current cool the vines in summer, down to Cape Point, into the beautiful shrubby Klein Karoo, to the slopes of the Helderberg and as far as the dry arid region of Oudtshoorn. Old vines often reflect the lives and the culture of the people – the fishermen on the coast, the sheep farmers inland, the wheat farmers of the Swartland and the fruit farmers of Piekenierskloof – and are often preserved by sentiment rather than budgets. Old vines and the wines they make are a monument to the farmer's love of his or her land. There are 10 vineyards in South Africa older than 100 years (a vine is called an old vine when it is 35 years and older). The Old Vine Project (OVP) wants to preserve as many old vines in South Africa as possible. We believe that many of the 4004 hectares of old vines could make wine with a special character and purity. We believe that older vines bring another dimension, a new character that tells a story of our land, our culture and our history. The OVP wants to focus the minds of winegrowers, winemakers and all wine drinkers on the benefits that come with age in vines. We want to create a culture of caring for vines at all ages, from young to old. The chance of vines getting old is so much better if you care for them properly in their youth. We want young vines to be able to grow old and not suffer from viruses or diseases, or sudden death in their youth. We also believe that the renewed focus on the quality that old vines in South Africa can give will help to raise the price of grapes in our country. Hopefully an increased price for grapes will contribute to better pay and living conditions for our farm workers.
I started travelling overseas 17 years ago and after seeing many old vines in France, Italy, Spain, Portugal and Argentina, and tasting the unique character of these wines, I asked one question: "Where are the old vines in South Africa?" The search started in 2002. Soon many people sent names of farms or sites where old vines were planted. At that time I was a vineyard manager at L'Ormarins and the farm managers of the Rupert farms, Chris Loubser and Johan Nel, were the first to report about old forgotten blocks in Skurfberg and Moutonshoek. Johan Viljoen, consultant at VinPro at the time, went on a week-long search with me and we ended up on the West Coast, where Eben Sadie's Skerpioen was born after long conversations with Oom Voges and many samplings of his very potent mampoer. We went up to Piekenierskloof and saw Grenache, down to Skurfkop and saw Chenin and Semillon that grow like small trees, up to Wuppertal and found … nothing! Producer's information on vines planted was confidential at that time. The team had to search for old vines themselves and write them down by hand. The list was slowly recorded during many hours of driving, and lots of beautiful tales of history and culture, of families and seasons. In 2014, SAWIS agreed to release the list of vines older than 35 years with an undertaking from me that I would only release the names of the producers after obtaining their personal approval. Jancis Robinson MW asked for a list of the old vines in South Africa, and journalists from all over the world started tasting wines from old vines in South Africa and reporting about their unique character. In 2016, Johann Rupert agreed to sponsor the OVP and André Morgenthal and Jaco Engelbrecht were appointed after both having been informally involved with the project for some years.
In 2018 the OVP launched the Certified Heritage Vineyards seal that members can place on bottles of wine made from vineyards of 35 years or older, together with the planting date. The certification seal is a world first and guarantees authentic wines grown according to the OVP viticultural and winemaking guidelines. Do old vines make better wine? I believe they very often do. Age in vines brings an intensity, a perceived freshness, a texture and a sense of place. They show less fresh fruit and varietal character, and more terroir and soil. They remind me of our land. The cold late afternoon winds on the hills behind Lamberts Bay on the West Coast. The smell of kelp and sea shells. The sense of space and colour driving past fields of yellow Canola, purple lupins and green wheat between Moorreesburg and Citrusdal in spring. The sight of a jackal buzzard or a nervous mongoose darting over a dirt road. The smell of boegoe, geranium and rooibos tea in the veld. To see a thumb-sized bird's nest tucked between two spurs in a vine. A swim in a mountain river on a warm summer's day. Or to hear the lovely call of a blue crane on a hot summer's afternoon.
Let's preserve the old vines of this country and the many wonderful wines that could be made from them.
Rosa Kruger